Course typology
MASTER FLOOR TRAINING COURSE.
DESCRIPTION:
The Master Pavings training course lasts one working day.
Specific application demonstrations will be conducted for products applicable on flooring of various types: PLASMA 3D , Bi Plasma 3D, Moquette and Microloggia as well as latest release decorative products from the Empire and Bellissima New Decorative Line, reproducing the most important textures and various application techniques.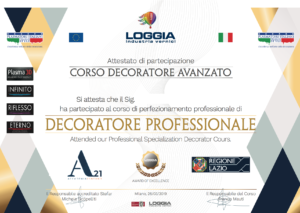 Each Plasmator will have a fully equipped workstation and the necessary tools for the application of each product. During the training course, he will be able to confront himself with the Master Plasmiters technicians of the Academy21 and receive specialized assistance, available for any eventuality and clarification.
DIPLOMA OF ITALIAN MASTER FLOORING MOULDER
At the end of the course will be delivered to each Decorator: the Italian Master Flooring Plasmator's Diploma, the brushstrokes made during the course, several catalogues and brochures for the consultation of all the products of our range.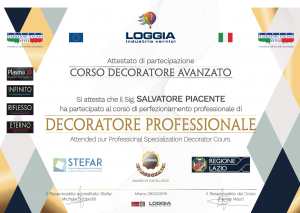 The stars do not have a criterion and an order of succession (1° 2° 3° 4° 5° ...). Each star represents a specialization, a Master. The Plasmater can therefore obtain the specialization in the requalification of bathrooms and floors or be Master in the realization of decorative walls or finally he can decide to take all the specializations and reach the sixth cumulative star of the 5.
For each Master obtained the Platinum star can be requested, a star that recognizes the excellence of specialization. The Platinum star represents an additional possibility to certify the master in which you have the specialization (e.g. MASTER BATHROOM REQUALIFICATION) and is issued after an examination on site.
Diploma Italian Plasmater Master Floors with certificate Professional Decorator Lazio Region - Stefar

Panelling (work portfolio) carried out during the course days

Catalogues & brochures for consultation

By participating in the MASTER PAVIMENTI it is possible to activate the procedure of the Master Plasmatori, each master is associated with a specialization that corresponds to a star.
The Master Plasmatori are obtained by subscribing to the fb group Plasmatori Italiani and following the instructions for the publication of the works, thanks to which it is possible to receive bonus points, turnover bonuses, dedicated offers and to obtain the stars.
ON REACHING EACH STAR WILL BE AWARDED
A BONUS SCORE BASED ON THE TYPE OF MASTER OBTAINED.
The training course starts at 9.00 am and ends at 5.00 pm on both days.
During the course days the company brunch and dinner are included in the package. 
Browse the calendar

Select the date of the first available course, click and register!
No Events
Mon
Tue
Wed
Thu
Ven
Sat
Sun
Overnight stay is not included, partner hotels available for room reservations on request: Hotel Garden - 0773 623481