Course typology
TRAINING COURSE FOR BASIC ITALIAN MOULDERS.
DESCRIPTION:
The Italian Plasmatori Italiani training course lasts two days from 9 a.m. to 5.30 p.m., (usually coinciding with Thursdays and Fridays unless there are unforeseen events that will be specified on the registration calendar) .
During the training course, application demonstrations of PLASMA 3D, the complete application cycle for walls, and the range of effects that can be achieved with the product, from the simplest such as crocodile, viper, wood, striped marble, and spatula, to the most complex such as the stencil technique, engraved marble, and modern marble, will be carried out on the first day.
Each participant will be provided with a fully equipped workstation to be able to replicate and apply the 3D palsma during the two-day training course, thus learning the application technique with the help of the Accademia 21 masters.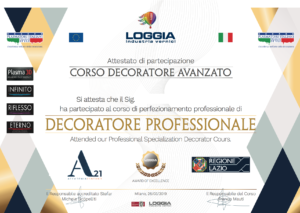 Each moulder will have a fully equipped workstation and the necessary tools for the application of each product during the two days, and will be able to meet with the Accademia21 Master moulders and receive specialised assistance, available for any eventuality or clarification.
All completed panels will be delivered together with the Plasma 3D application kit and the Italian Plasma Diploma
DIPLOMA OF ITALIAN MOULDER
At the end of the course each Decorator will receive: The Diploma of Italian Decorator, panels made during the course and various catalogues and brochures for consultation of all the products in our range.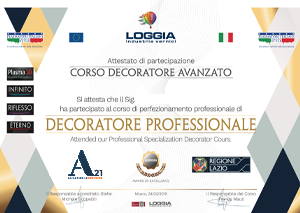 Italian moulder diploma with certificate Professional Decorator Lazio Region - Stefar

Panelling (work portfolio) carried out during the course days

Catalogues & brochures for consultation

Plasmatore Italiano will receive a STARTER KIT

On-site brunch on both days and dinner included in course fee

The training course starts at 9.00 am and ends at 5.00 pm on both days.
During the course days the company brunch and dinner are included in the package.
Browse the calendar

Select the date of the first available course, click and register!
No Events
Mon
Tue
Wed
Thu
Ven
Sat
Sun
*in case of emergency or covid-19 update the course will be postponed and you will have a valid coupon to enrol on any other available date
Overnight stay is not included, partner hotels available for room reservations on request: Hotel Garden - 0773 623481